Jet Ski Rentals in Key West, FL Including Waverunner Rentals, Sea Doo Rental, Jet Ski Tours, and More
Smaller Groups = Better Experience!
At Key West Boat & Jet Ski Adventures, we provide the best jet ski rentals and Sea-Doo rental services in Key West, FL. From action-packed guided tours to romantic sunset rides, we have something for every taste and occasion.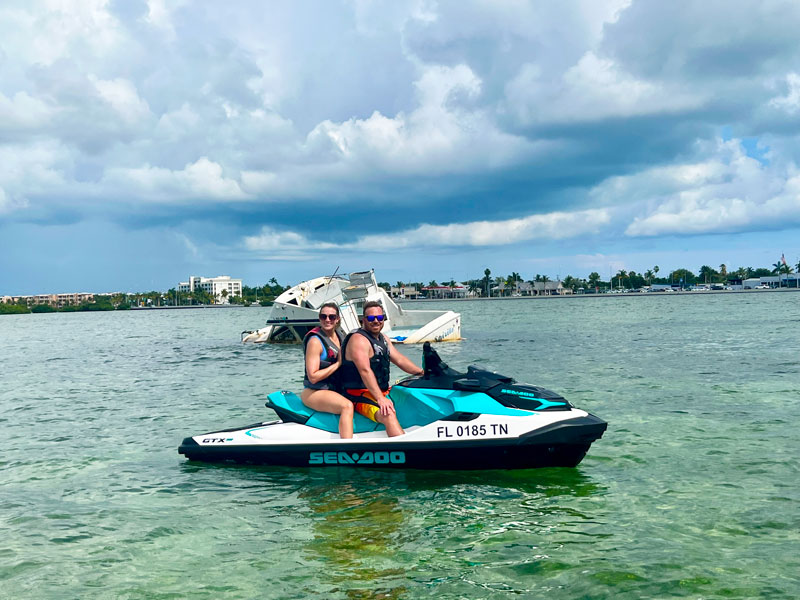 Fun and Safe Jet Ski Tours and Sea Doo Rental
Calling all thrill-seekers and explorers, our Key West Jet Ski Rentals are a great way to experience Key West in its entirety. Our guides will take you on a 27-mile adventure around the island. You'll explore nature trails, sandbars, popular landmarks, and more. Hopefully, we will encounter our local sea life including dolphins, and sea turtles!
We'll cruise along the beautiful coastline, stopping for a swim and visiting various local landmarks along the way.
OUR FEATURED TOURS
Jet Ski Guided Tours & Rental Packages
Our Jet Ski Tours are a great way to experience Key West!
Treat yourself and your loved ones to an unforgettable Key West Adventure!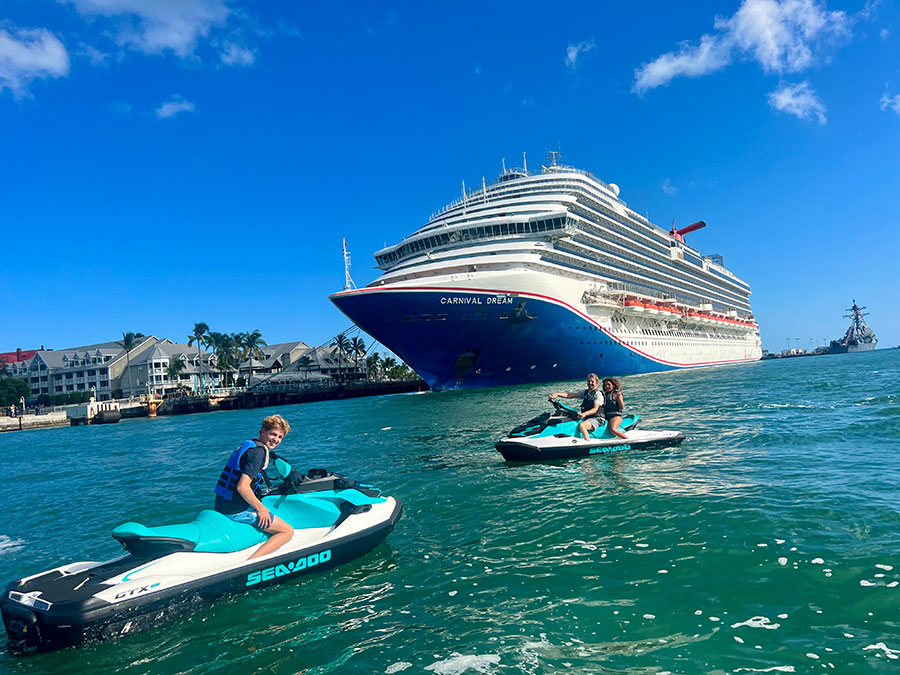 Sea-Doo Rentals
Our company partners with Sea-Doo, one of the world's best boat and personal watercraft brands. Sea-Doo supplies us with new jet skis every year. This allows us to maintain an unrivaled level of safety and quality at all times. To learn more about our Sea-Doo jet ski services, get in touch with our team.
GUIDED JET SKI TOURS
Tour Times
Second Rider Always Free!
* Up to 8 jet skis per tour.
Please read our guidelines and requirements below before booking.
Book 5 Days in Advance!
$15 OFF
Call 305-990-1120 to apply discount.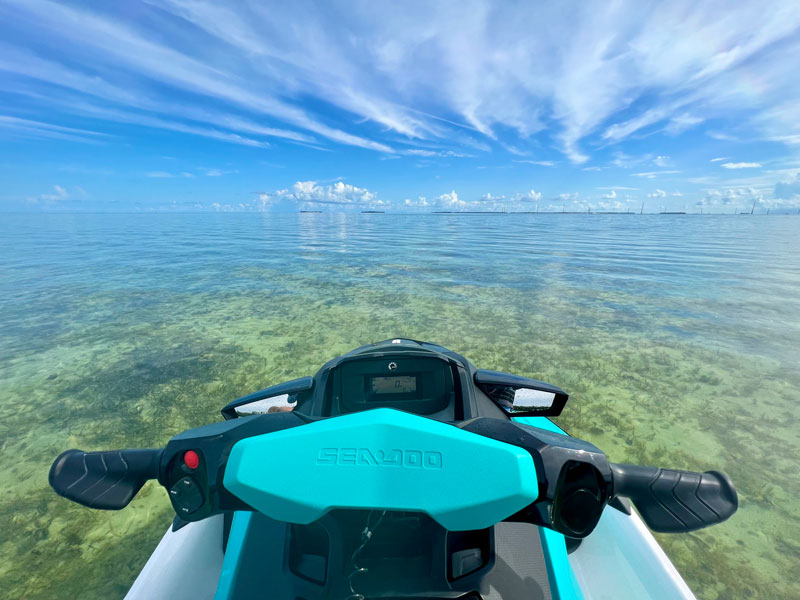 1 Hour Freestyle Jet Ski Adventure
Rates From $140
Ages 4+ • Up to 2 People • Take to the water!
Short on time and want to do your own thing? Our supervised Freestyle Adventure is perfect for you. Our guide will take you to a secluded area where you can let loose and get your jet ski on. This jet ski rental is a great way to let loose and get your adrenaline fixed, or you just relax and chill if you prefer. It's completely up to you. Some people don't care for structured, guided tours. That's why we came up with this freestyle alternative. Book yours today!
BOOK NOW
1.5 Hour Jet Ski Tours
Rates From $139.95
Ages 4+ • Up to 2 People • Take to the water!
Our Jet Ski Rentals are a great way to experience Key West. Let our guide take you on a 27-mile adventure around the island. We'll make several scenic stops along the way. Hopefully we'll encounter our local dolphins and sea turtles.
BOOK NOW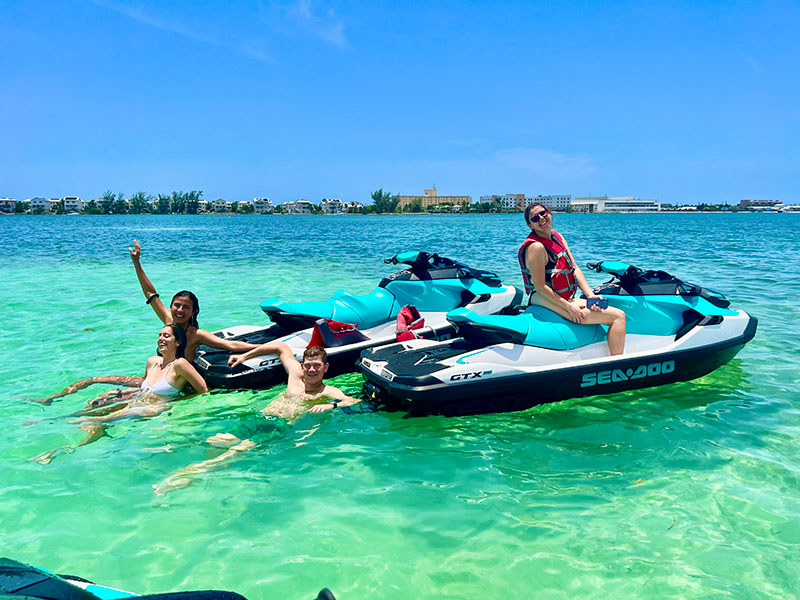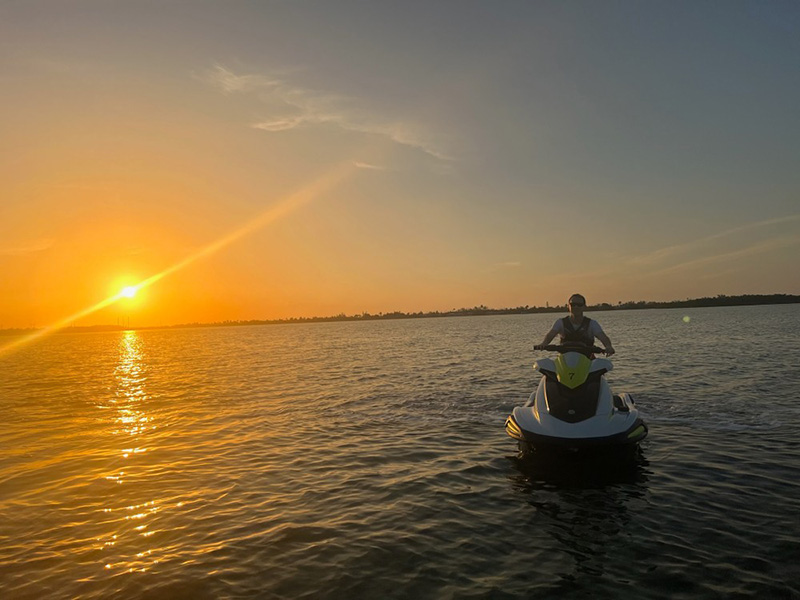 1 Hour Sunset Jet Ski Tour
Rates From $140.00
Up to 2 People • Take to the water!
If you love the sunset from Mallory Square, you're gonna REALLY love this tour. Our Jet Ski Rental tour is perfect if you don't want to invest a lot of time but like the ultimate Key West sunset experience. Get away from the crowds and create a lasting vacation memory. No large groups of people, just you, four other jet skis, the Gulf of Mexico, and the sunset (there may be a few dolphins around). If you want to chill and soak it all in, that's cool. Perhaps you need speed and want an adrenalin rush; we're good with that also. It's all about YOUR Key West Jet Ski Adventure. So book yours today, and let's get out on the water.
BOOK NOW
CUSTOMER REVIEWS
We're dedicated to keeping our customers happy!
Quote 1

We had a great time! Smaller groups are definitely better!

We had an awesome experience with JC and even had time at the end of our tour to "play around" as he put it! We hit some really cool spots and learned a little bit about each one! Appreciate the time and the realness of the whole experience! You guys are doing ...

Quote 7

Awesome tour and a great deal comparatively.

Highly recommend this place. Our tour guide, CJ was amazing and really knows the island and all the spots to see! 5 stars and two HUGE thumbs up!!!

Quote 2

So much better than a tour with 13 people like the other places. Our tour guide was very interactive! We will be back.

Quote 3

Dave showed us a good time!

Great ride, good jet ski!

Quote 4

Thanks to 9 1/2 Dan, me and my husband had a blast on this jet ski tour.

He really loves what he does and it shows.  We will definitely be back.

Quote 5

Wife and I had a great time this morning with JC.

Excellent tour of the Key West waterways with time to play in both the Gulf and the Atlantic. 5 stars for JC and the memories he helped us create!!

Quote 6

I would highly recommend. JC was an amazing tour guide. We had a one on one experience and couldn't be happier! This is a must during your vacation to Key West.
GUIDELINES:
(PLEASE READ CAREFULLY BEFORE BOOKING YOUR ADVENTURE)
All drivers must have a government-issued photo ID to check in.
Drivers born in 1988 or later must present a boater's license or take Florida's Boater's Safety Course.
Agers 14-15 can drive with an adult on back.
Ages 16-17 can drive alone, but must have an adult present to sign their waivers and take a Boater's Safety test.
Please note that a safety lanyard (key) is attached to the Jet Ski driver at all times
Two guests are allowed per Jet Ski and cannot exceed a total combined weight of 400 lbs (225 kg)
There are no refunds on cancelations with 24 hours of the reservation's scheduled departure. That includes no-shows. No exceptions.
What To Bring:
Valid Government Issued Photo I.D.'s For All Adults 16+
One Credit Card Per Reservation
Towel
Sunscreen
Bathing Suit
Sun Protective Clothing (Sun Shirt)
Floating Straps for Sunglasses (Recommended)
Waterproof Camera (Recommended)
Gratuities Customary
Guest Will Be Denied If:
They possess or are under the influence of drugs or alcohol
Are pregnant
Have any existing medical conditions that put them or others at risk
Are 3 years of age and younger
Are over 18 years of age and do not have a valid government issued photo I.D. and credit card
Operator of jet ski does not have a basic understanding of the English language
Frequently Asked Questions about Jet Ski Tours & Rentals in Key West, FL
Book Our Jet Ski Guided Tours Today in Key West, Florida
Give yourself and your loved ones a fun-filled day on the water. Contact us at Key West Boat & Jet Ski Adventures to make your booking or learn more about our jet ski rentals, watercraft rental, and Sea-Doo rental services.